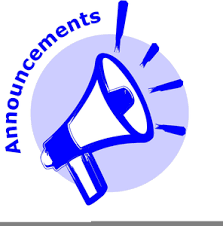 JrH/HS Announcements 9/18
Shari Biggs
Friday, September 18, 2020
Happy Friday!
There will be an early dismissal at 11:15 a.m. on Wednesday, September, 23rd. We will be moving on the AM Schedule.
Attention: Remote learners who would like to come to school for in-person learning can start the first day of 2nd quarter on Monday, October 19th. First Quarter ends October 16th.
Attention 6-8th graders: Meridian 21st Century Enrichment program will be offering Youth Coding classes after school every Wednesday. If you are interested sign up in the front office. The deadline to sign up is Wednesday, September 23rd.
Students we are enforcing the school dress code. Please refer to page 33 and 34 of your Student Handbook. Staff are watching.
Reminder: Remote Learners- P.E. is a requirement for graduation! Do your assignments and turn them in!
Seniors: Make sure you are making your FSA ID's.
Seniors will take the SAT on October 14th.
Activities:
HS Baseball practice
MS Baseball practice
MS Softball practice
Enjoy your weekend!